How to contribute - Datasets
Share your dataset with the community
Contribute to existing open datasets
Share your dataset with the community
1. Registration
Before using TensorBay SDK, please finish the following registration steps:
An AccessKey is needed to authenticate identity when using TensorBay via SDK or CLI.
2. Installation
To install TensorBay SDK and CLI by pip, run the following command:
$ pip3 install tensorbay

To verify the SDK and CLI version, run the following command:
$ gas --version

3. Authorize a client instance
from tensorbay import GAS
​
gas = GAS("<YOUR_ACCESSKEY>")

​
4. Organize your own dataset
If you find problems during the contribution, feel free to ask in the #ask-graviti channel in discord.🙌
Join Graviti AI Community Discord: https://discord.gg/6P7batQgXK
5. Edit basic information
Now let's edit the basic information which may let users better understand the dataset! ❤️
After organizing and uploading the dataset, you can find it at https://gas.graviti.com/dataset/list
Click Enter Draft to Edit button. You can either edit an existing draft or create a new draft.
Click the edit icon in Basic Information to enter the edit page.
Set the Dataset Tag and Dataset Description as detailed which may help more users better understand the dataset.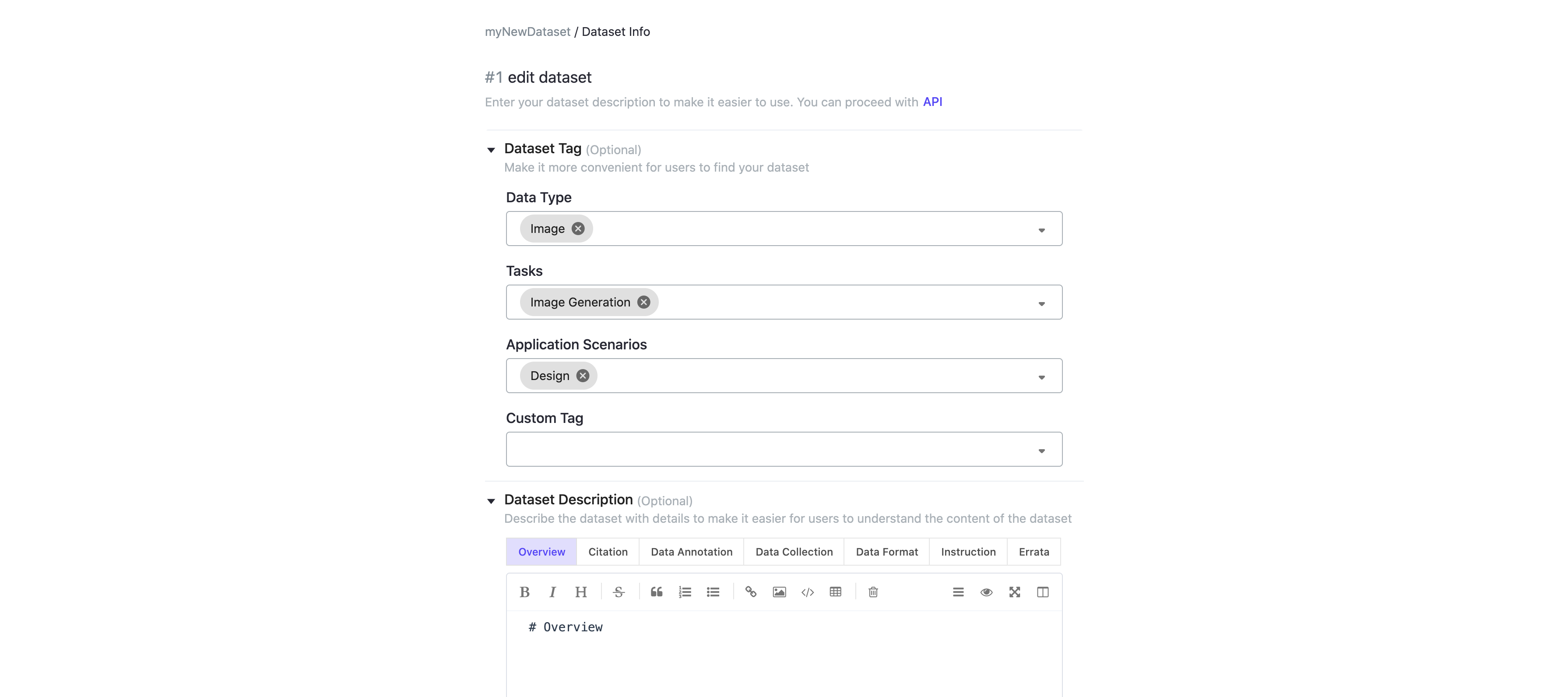 Fulfill the Copyright Requirement to let users know the limitation.
After all changes are done, click the Save button to save changes.
Check changes, you can click to view the Diff detail.
If all the changes seem good, click the Commit button, this will make all the changes available to the branch the draft pointed to. Here you can see my source branch is main.
6. Set your dataset as public
​Congratulation, the editing is almost done! 🎉🎉
Navigate to the Settings, edit the dataset name, dataset alias and upload the cover image.
Dataset Name: Ppl use this name to access datasets.
Dataset Alias: The name we see on the cover.
Now, if you want to share your dataset with the community, set your dataset as Public and everyone will benefit from your contribution. 🎉🎉
Contribute to existing open datasets
We have compiled the popularity of public datasets over the past year. If you want to join the process of contributing, you can start here👇🏻
Pls note and follow the license agreement of datasets.
MPII Human Pose
VGGFace2
PANDA
CelebA
CURE-TSD
DeepFashion2
ADE20K
PandaSet
SCUT FIR Pedestrian
Human Foot Keypoint
The Boxy Vehicles
RarePlanes
SynthText in the Wild
Open Images
DOTA
WoodScape
CelebA-align
Caltech Pedestrian Detection Benchmark
Lyft-perception
The IIIT 5K-word
LVIS v1.0
PanNuke
PoseTrack
UAV123
LISA Traffic Light
Tongji Parking-slot Dataset 2.0
Text in the wild
Daimler Stereo Pedestrian Detection Benchmark
MPIIGaze
Animal Parts
Daimler Pedestrian Path Prediction GCPR13 Benchmark
Mapillary Traffic Sign
Daimler Mono Pedestrian Detection Benchmark
GM_ATCI Rear-view Pedestrians
LPW
PASCAL-S
ImageNet